| | |
| --- | --- |
| Posted by Jon Lannen on September 18, 2016 at 4:10 AM | |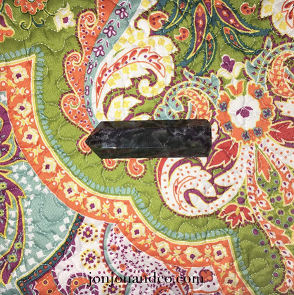 Fluorite is a stone in the green crystal family. Fluorite is a crystal with a hardness of a four; a diamond is ten. The green-esque crystal is in the cubic family. The pictured Fluorite above is a hexagonal wand. See
hexagon
 shape information 
here
 - see more on 
wands
here
.
Fluorite is powerful, having a resounding impact on cleansing all of the chakras. See
chakras
here
. The chakras influenced the most by a green - with a mix of purple, too - Fluorite stone are the crown, heart and throat points.
Fluorite has ties to the planet Mercury. Fluorite's astrological zodiac is Capricorn. See
astrology here
.
The stone has origins and traces in Australia, Brazil, Canada, China, England, Germany, Mexico, Norway, Peru and the United States. The hexagon Fluorite pictured above was purchased in Boulder, Colorado from a lovely, enlightened Tibetan couple.
Fluorite is a wonderful stone for cleansing the energy fields and finding attunement; especially as it pertains to intuition (clairvoyant abilities) and brings forth internal (subconscious) beliefs. This is a protector stone that enhances focus and creates order.
The spiritual properties of Fluorite are pure, healing.
To purchase a
Fluorite
 stone,
please click here
.