| | |
| --- | --- |
| Posted by Jon Lannen on September 18, 2016 at 4:35 AM | |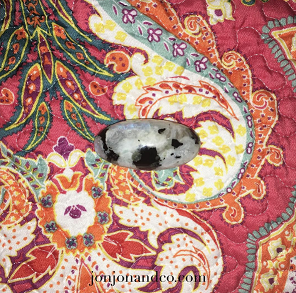 The moonstone pictured was attained in Denver and gifted to a loving friend shortly after. This rock is unique as it is a dalmation spotted, egg-shaped moonstone. More on
eggs here
. Moonstones are powered by the moon, no planets.
Moonstones are in the monoclinic family with a hardness of six. In various colors can moonstone be found. The moonstone has origins in Australia, India and Sri Lanka.

The western astrological ties are to Cancer, Libra and Scorpio. More on astrology here. Many people tie the stone of the moon to feminine energy. Male or female, this stone is used to channel and embrace the spiritual Goddess.
This stone elicits fluid dreams, especially during full moon cycles. Like the cycles of the moon, this stone encourages change (as the moon cycles) and elevates reflectiveness; gratefulness. Moonstones also tap into clairvoyance or psychic abilities. The energy of the stone is very feminine in nature - almost mother like.
The chakras moonstones most impact are the solar plexus and third eye. More on
chakras here
. Open the mind with this fluid stone for synchronicity and synergy.