| | |
| --- | --- |
| Posted by Jon Lannen on September 18, 2016 at 5:20 AM | |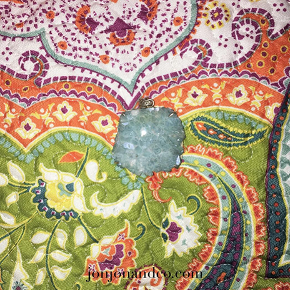 Quartz is one of the most commonly seen stone. Quartz has multiple purposes but is best for energizing energy. The planets that run standard quartz is the sun and the moon, not planets. Quartz is all encompassing; inclusive of all the astrological zodiac signs.

This Aqua Aura Quartz was gifted to me by a dear, dear friend. This stone is powerful, despite being sensitive. Aqua aura quartz is known for its brittle hardness. 
Aqua Aura Quartz has all the general characteristic of the quartz family, the aqua stone is unique in its own right, but isn't found in any particular place as it is manufactured. The energy the aqua gem omits is a force-field. The chakras impacted are the crown, sensual sacral, third eye and throat. More on
chakras here
.
The hexagonal quartz is a high vibration stone. Healers recommend combining the powers of Aqua Aura Quartz with other crystals for a deeper, more meaningful way of healing. Aqua auras deepen the attunement to a higher level of spirituality; getting on a different level of frequency.
The aqua-colored stone jump-starts the chakras to speak from intention. Aqua Aura Quartz, simply put, is am energizing, freeing and stunning crystal that helps everyone speak from their heart.
Click here
to purchase your crystal energy!