| | |
| --- | --- |
| Posted by Jon Lannen on August 12, 2018 at 8:00 PM | |
Denver Brunchfest 2018
By Jon Jon Lannen
Denver knows how to brunch and boy did it on Sunday, August 12th, 2018. What went down? Sunday Funday rang in the 2nd Annual Brunchfest. As the 11 Creative says, "BrunchFest is the ultimate Sunday Funday experience for Denver brunch enthusiasts who like to Brunch SO Hard." Brunchfest is presented by the Denver Brunch Club and 11 Creative.
That Podcast hosts LPiddy and Jon Jon were invited to Brunchfest this year and it was a great time. As mentioned, this is the second Brunchfest to nestle itself between the Denver Capitol and Denver Courthouse in Denver's Civic Center Park. The event was a huge success with delicious drinks, Denver's best bites and avid Brunchers abound!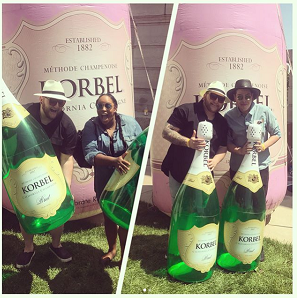 Source:
Instagram
Brunchfest 2018 brought out brunchers in masses.  The gathering of culinary treats included 12 @ Madison, Ad Hominem, Brewed Food, CHUBurger, Concourse, Courier Restaurant, Death & Co., duo restaurant, Esters Neighborhood Pub, Habit + Carbon, Hotbox Roasters + Donuts, Kale Me Crazy, LOW Country Kitchen, Marcella's, Method Coffee Roasters, Miami Vibez, Morning Collective, Que Bueno Suerte, Queen City Collective Coffee, Revelry Kitchen, The Whiskey Biscuit and Whole Sol Blend Bar. All of them are mentioned as this is your official recommendation to try these places if you live or visit Denver, Colorado!
The winners were well-deserved. Morning Collective took the title of Best Sweet Treat with their Strawberry Short Cake French Toast, Courier Market Bar Kitchen took the honor of Best Savory Morsel for their Waffle Biscuit and Gravy Fried Chicken with Pepper Jam and the Best Bite went to Ester's Neighborhood Pub with their Short Rib Hash. Yummers!

Check out Episode 34 of #ThatPodcast to hear which were some of LPiddy and Jon Jon's favorites!
Along with delightful brunch samples from a ton of different local Colorado restaurants, each entrant was entitled to bottomless mimosas and bloody Mary's. The event had unlimited champagne, courtesy of Korbel Champagne and refreshing vodka drinks, courtesy of Keel Vodka. All to benefit the fantastic organization, Minds Matter Denver. Minds Matter Denver is transforming the lives of accomplished high school students from low-income families by broadening their dreams and preparing them for success in college and beyond.
So, bottomless drinks, yummy treats and it is all for a good cause?! No wonder Denver Brunchfest was a Sunday Funday success! 
Here is the quick promo That Podcast did prior to Denver Brunchfest 2018:
Jon Jon Lannen is the owner of Jon Jon & Company, author of the Giraffe Book Series and one half of That Podcast with LPiddy and Jon Jon. More on Jon Jon here.

Categories: Jon Jon Lannen, Podcast, Articles